EL-50448 OEC-T5 Tire Pressure Monitor Relearn Tool Review
EL-50448 OEC-T5 Tire Pressure Monitor Relearn Tool Review
EL-50448 OEC-T5 is a GM tire pressure relearn tool. This model works with many models such as Cadillac, GMC, Buick, Opel, or abbreviated with all models manufactured from General Motors ( included Cars, SUV and Pickup) from the 2006 Year – To this day. It also must be equipped with a pressure monitor system sensor with 315/433 MHZ.
It also is very easy, fast, and simple for use, This reste tool within just 3 steps will help you for reprograming all tire pressure.
Just pressing on one button will activate its individual TPMS sensor Within 1-2 Mins.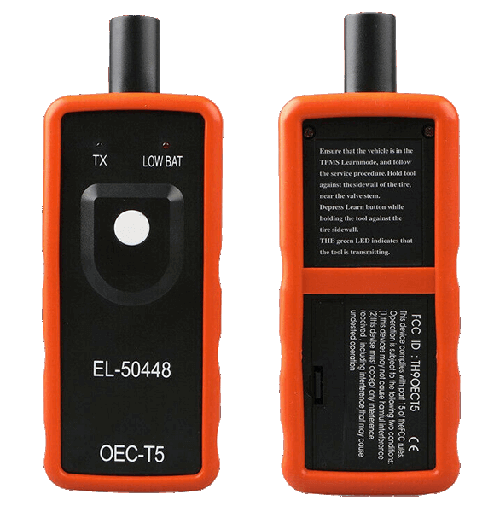 How to use EL-50448 OEC-T5
Make sure that you have a 9V battery inside (it is also recommended to remove the 9V battery if you do not use the Reset tool.)
We have already mentioned that it is easy to use: as a first make sure that you have made your car in the TPMS Learning Mode, if it is made then take the EL-50448 OEC-T5 tool and hold against the sidewall of the tire, it must be in the near the valve stem. (make sure that the antenna is in the correct position)And then press the learn button until you horn beeps once. Also very important is that this tool is not for TRUCK
Also, How to use EL-50448 OEC-T5 you can see on this video listed below
This is an essential tool for replacing your vehicle tires pressure sensor, the tire pressure alarm if you remove or have already exchanged the tires. This tool will help you with TPMS warning light to extinguish it, that is, to make it disappear. Perfect and also very important is to monitor tire pressure in your vehicle.
In this video, You will see EL-50448 OEC-T5 Tire Pressure Monitor Relearn/Reset Tool Review
I hope that this article "EL-50448 OEC-T5 Tire Pressure Monitor Relearn Tool Review and How to use" it would be useful for you