Finding the Best Quadcopter With Camera for You
Finding the Best Quadcopter With Camera for You
Flying a quad provides virtually anybody, from grandparents to grandchildren, with endless hours of fun. There's nothing like standing outside in the breeze and watching your drone soar high in the sky or inside hoping it doesn't hit the ceiling and crash. The only thing that makes flying a quad any more thrilling is throwing a camera in the mix.
You can take pictures of beautiful scenery and even record your flights allowing you to watch them whenever you please. We understand that choosing a drone with a camera can be a difficult decision so in order to help you out, we have written reviews of some of our personal favorites. We hope you find the perfect drone for you at the perfect price.
DJI Phantom 2 Vision Quadcopter with Integrated FPV Camera
DJI Innovations outdid themselves when they released the Phantom 2 Vision. When it comes to looking for a copter with the camera, the DJI Phantom 2 Vision surpasses almost all other quads. Buying a separate camera for your copter is now a thing of the past as the Phantom 2 comes with a built-in Wi-Fi HD camera. The camera has a 140-degree field of view at its maximum resolution of 1080p, although, you can opt to use lower resolutions. Even more impressive, it can snap 14-megapixel shots.
With the Go-Pro camera that you can purchase for the original Phantom you have to lock in the camera at one specific angle before going in the air; the Phantom 2 Vision allows you to remotely tilt the camera through its integrated motor allowing you to get the perfect shot. Also, with the basic Phantom vibrations often cause what is known as the Jell-O effect which is simply distorted video. The Phantom 2 comes equipped with an anti-vibration mount that keeps Jell-O minimal.
The coolest feature in my opinion, though, is the free DJI Vision app on iOS and Android mobile devices; you can view a live feed from the camera while it is in flight, tilt the camera, and stop and start recording. Also, the app allows you to see the altitude at which your quad is flying, its location and battery life.
On the picture you can check for Ratings, Reviews, and Discounts on Amazon for DJI Phantom 2 Vision Quadcopter.

DJI Phantom Aerial UAV Drone Quadcopter with GoPro
The DJI Phantom 2 Vision may come equipped with a camera and new features, but the original DJI Phantom is better in some aspects as well, especially with the GoPro camera. A big advantage the DJI Phantom has on the Phantom 2 Vision is the price. The DJI Phantom is less than 400 dollars, and a GoPro camera is typically around $200 which gives it a total of around $600 for the package.
With the Phantom, you can remove the camera for flights where you don't want a video which you can not do with the Phantom 2. Also, the GoPro camera includes a microphone. The GoPro camera is quite sturdy and doesn't produce much of a fisheye effect. The DJI Phantom with GoPro is certainly a great quad with a camera that will provide you with many hours of fun that you can watch time and time again.
On the picture you can check for Ratings, Reviews, and Discounts on Amazon for DJI Phantom Aerial UAV Drone Quadcopter.

UPGRADED Hubsan X4 H107C with HD 2MP Camera
The Husban x4 H107c v2 comes with an installed 2mp HD camera. This quadcopter can easily fit in your hand. Although the copter is quite small, it is still very durable which means you won't have to worry too much if you happen to have a minor crash. One great thing about this drone with the camera is the easy set-up. It comes with an instruction manual that is very straightforward and also gives you lots of information. In addition to the easy set-up, the quad has a short charging time of only half an hour.
The HD camera allows you to get nice shots of your flights and the lens can always be adjusted if needed. Unfortunately, the camera does not come with an SD card, so you will have to purchase one yourself. They're as cheap as $5 but go all the way up to $50 depending on how much memory you want. If you like flying your quad at night that won't be any kind of problem with this copter considering it comes with four led lights. Since this copter with the camera is only $90 its perfect for a beginner quad enthusiast who doesn't want to waste their money in case their quad gets destroyed.
On the picture you can check for Ratings, Reviews, and Discounts on Amazon for UPGRADED Hubsan X4 H107C.

UDI U818A 2.4GHz 4 CH 6 Axis Gyro RC Quadcopter with Camera
This quadcopter is notably bigger than the Husban x4 H107c v2 at an even lower cost of just $76. The camera isn't was as nice as a GoPro camera that you can purchase with a DJI Phantom, but it's decent, especially for the price. Night flying is made super cool with this quad due to its stunning LED decoration. You can find more great feature but the another good feature is its ability to perform the 3D rolling action such as pirouettes, needless to say; you'll have tons of fun flying this copter.
The 2.4GHz technology allows minimum interference and longer transmission distance. One downside is the long charging time of 120 minutes. Unless you're going to be constantly flying throughout the day the charging time shouldn't be too much of a problem, so you don't have to wait.The quad can last in the air up to 9 minutes, giving you plenty of time to fly. Also, its modular design makes it simple to install and easy to repair if you happen to crash. This copter does well against light winds but starts to have trouble at 5mph and above; of course, that's normal for many quadcopters. Simply put, this is a fantastic quad at an amazing price that won't let you down.
Discounts on Amazon for UDI U818A 2.4GHz 4 CH 6 Axis Gyro RC Quadcopter.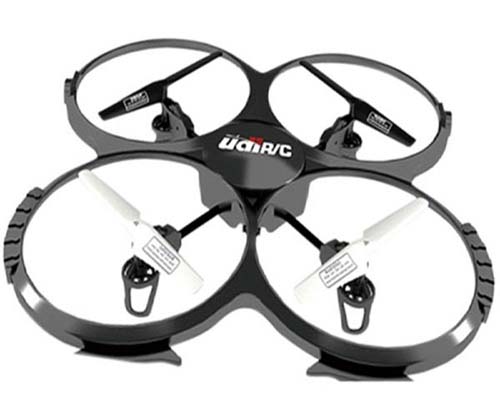 I hope that this article "Finding the Best Quadcopter With Camera for You?" would be helpful for you.