Why the UDI U818A is a Great Drone for Beginners
Why the UDI U818A is a Great Drone for Beginners
Flying RC quadcopters is a favorite hobby for many people across the world. The freedom and mobility of these small remote controlled helicopters give the operator a sense of control and freedom that cannot be obtained with anything else. Many of these drones now include built-in cameras, making it easier than ever to fly and control your copter and give you a birds-eye view of your surroundings. The UDI U818A is one of the most popular and most affordable models currently on the market. This quadcopter is priced for affordability, and as such almost anyone can afford it with ease.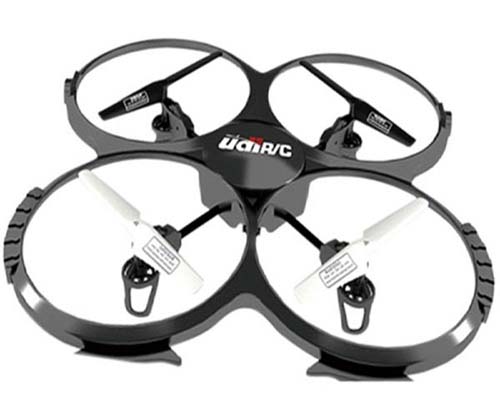 UDI U818A Review
This review will cover three distinct sections: the product description, uses of the product, and pros and cons of the drone. The UDI U818A is an affordable, entry-level drone that has been on the market for some years now. Priced at under $40 on Amazon, this is one of the most affordable models currently on the marke. Making it easy for anybody to take up the hobby of RC flying.
The UDI U818A features six distinct axis with a separate posture control for unmatched control and ease of flight. The integrated design makes positioning and flight of this helicopter very easy, even for the most novice of RC pilots. It includes four different channel functions that provide for the stable flight across all platforms. This particular RC copter also includes an FPV camera, allowing you to see what your quad is seeing during the entire flight, which in turn makes flight control much easier and more precise.
Included in the set are a high capacity battery and four strong motors which allow the copter to fly for up to 9 minutes without needing to be recharged. The battery takes around 120 minutes to charge completely, and the camera is also powered by the battery. This particular model makes use of a modular design, which makes it quite easy to assemble and repair if it becomes damaged.
Uses
This UDI U818A review also describes why people purchase this particular RC copter and what they use it for. The vast majority of people purchase this particular model because of its low price. Many are eager to take up the hobby of remote control flying but don't want to spend big money on a high-end model which they may easily crash because they don't possess enough skills for operating the aircraft.
Review of the UDI U818A
Another use for which this drone finds itself employed for is aerial photography. While the camera used on this particular model isn't of great quality. It is certainly good enough to provide clear pictures at heights of between 50 and 100 feet off the ground. Many people purchase this quadcopter to gain skills in flying before they graduate to bigger, stronger and faster models.
Pros and Cons
Understanding the pros and cons of this particular model is integral when it comes to this review. Below you can find both the pros and cons of this particular model listed out, especially when you compared to other models in its class:
Pros
Low cost – This is one of the cheapest RC helicopters currently on the market. At a price of under $40 on Amazon, this remote control quad can be purchased by anybody looking to enter the ranks of RC pilots.
Quick charge time – Unlike some other models which have to be charged all day. This particular model only requires 120 minutes to charge fully.
On-board camera – The on-board FPV camera can be used to assist in piloting this RC drone. Or it can also be used for aerial photography.
Cons
Short remote range – At a range of only 30 meters. You will not be able to fly this drone very far away without losing connection with the remote.
Cheap materials – This particular model does not use polycarbonate materials like some of the higher-end models. But here is to be expected when the low cost is taken into consideration.
Hopefully, this UDI U818A review will help you make up your mind when it comes to deciding which model of quadcopter you are going to purchase. This particular model is very cheap and is great for entry-level pilots looking to get into the hobby of RC flying. If you do decide to purchase one, you will surely like it.